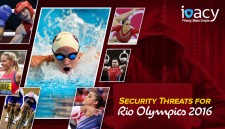 With Rio Olympics 2016, set to become the most viewed sporting event, the online hackers have become more proactive. Online streamers and foreign tourists are equally vulnerable to hack attacks.
Hong Kong City, Hong Kong, August 4, 2016 (Newswire.com) - ​​​The Summer Olympics 2016, popularly known as Rio Olympics, or the Games of the XXXI Olympiad is set to break global viewer-ship records.
More than 3.6 billion people will watch Rio Olympics online around the world. Technological innovation has come to a full circle as traditional media - including TV watching - has seen a considerably dropping trend during the past decade.
Keeping in view the magnitude of the Rio Olympics and the looming online security threats, which are even bigger this time, call for foolproof measures that not only give the users the sense of satisfaction, but also utmost online freedom, so they experience flawless live streaming of the event. At Ivacy VPN, we strive to provide internet users with long term convenient solutions, while ensuring that their identity and privacy remains intact.

Eduard Yegor, Marketing Manager
A recent report on Digiday estimates that 85% of people will use various smart devices to live stream Rio Olympic Games. That's where hackers have a great chance to catch internet users off guard.
Hackers have already threatened to attack online ​streamers during the mega event. Of course, this threat should also be a cause of alarm for tourists, online shopping geeks and Wi-Fi hotspot users, all of whom are equally vulnerable to the threat of online identity theft or credit card information misuse.
The scale of online security threats is really massive. Online hackers have the will and the means to get what they want. The extent of online privacy and security threats also cover internet users outside Brazil. Hence, online security and privacy is a common problem for which the internet community must work together to thwart any malicious event.
Using a virtual private network (VPN) service will not only help internet users in seamless live streaming of the mega event but also encrypt the information that they intend to transfer or share over the internet during the event. With a VPN in place, internet users can effectively get rid of their online security and privacy issues with minimal effort.
Online hackers are well prepared. They are not going to let a single chance slip away to invade privacy and security of global audience over the web. While watching the event on your TV screen, PC or hand-held device, taking a cautious approach - such as using a VPN - can help internet users and online streamers a great deal when it comes to online security and privacy.
In addition to unblocking geo-restricted channels, Ivacy also provides unparalleled security when you are accessing your favorite social media or financial apps through public Wi-Fi; that too at a very reasonable price of just $1.66 per month. All said, Ivacy is your best defense against online threats while you are enjoying fast buffer-free streaming of Olympics 2016!
Source: Ivacy VPN
Share: