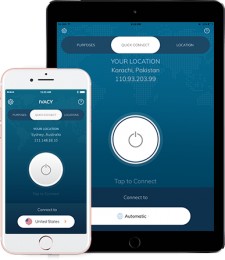 Ivacy has released yet another update for its iOS app, this time proving to be a noteworthy upgrade with plenty in store for everyone.
SINGAPORE, SINGAPORE, January 26, 2018 (Newswire.com) - Ivacy VPN is constantly offering updates for its apps and has managed to dish out some amazing features. Over the course of time, the number of bugs has dropped considerably; this release is no exception either.
The latest update for Ivacy's iOS app comes with fixes and improvements for the UI, which further enhances the overall UX. There were problems regarding holding stable connections, which have been dealt with this time. The app also comes with an additional new purpose to make it easier for users to benefit from the VPN service based on their own needs and requirements.
The company is completely focused on improving and offering a fluid experience while using the internet. Ivacy is not only dedicated to offering something new but will do whatever it takes to ensure existing features work flawlessly as well.

Bilal Khan, AVP of Ivacy VPN
Apart from the expected improvements, several new features have been added to the latest build, which is as follows:
Manual Dialing
Rather than connecting to just about any server of the selected country or location, take control and connect to any specific server of your choosing.
Smart Connect
Establish a VPN connection with the click of a button. No configuration or tweaking required.
On-Demand VPN
Enter websites of your choosing, which when accessed will automatically trigger Ivacy to connect to a VPN server.
In-App Purchasing
Subscribe to a new or extend an existing plan from within the app, rather than having to do so from the main website.
Reset Password
In case you forgot your password, you can reset it from within the app without having to access the main website.
App Feedback
Provide valuable feedback regarding your experience using Ivacy from within the app.
Secure Downloading
Once connected to a VPN server, and when downloading files, an anti-virus program will scan said files on the server level to protect you from being compromised.
Share Now
Use the Share Now feature to let others know about Ivacy and how it can benefit them for a safe, secure and unrestricted internet access.
After officially updating their Windows and Android apps, Ivacy finally brought good news for its iOS users. The Singapore based VPN company also has recently revamped its website, showing an intent for continuous improvement.
Source: Ivacy
Share: