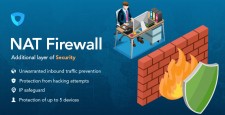 Ivacy's latest add-on serves as a great addition to the service as a whole, further securing user's online presence.
SINGAPORE, March 19, 2018 (Newswire.com) - Ivacy has released a separate add-on apart from its service. But then again, this was to be expected, considering how the service provider promised new releases and features in the months to come.
Who is the NAT Firewall Add-on for?
I am confident that the NAT firewall add-on, along with several other soon-to-be-released features will ensure every internet user enjoys true internet freedom without compromising on security and anonymity. I am happy with our company's dedication towards internet freedom for not just existing and new customers, but internet users in general.

Bilal Khan, Assistant Vice President of Ivacy
NAT Firewall add-on is aimed at protecting internet users by blocking exploits, un-requested connections, and bad data packets. Once implemented, the add-on ensures internet users never have to worry about being compromised while using the internet.
How does the NAT Firewall Add-on Work?
NAT Firewall is a network protocol that specifically serves private networks. These private networks consisting of one or more computers are designated a public address. Said computers can then connect to public networks simultaneously while being protected from malicious packets planted by cyber-criminals.
Simply put, the NAT Firewall add-on is an additional layer of security for your internet connection. Much like an anti-virus program, which detects and eliminates incoming viruses, the NAT firewall detects and blocks malicious traffic instead.
Benefits of NAT Firewall
• Ensures internet users are protected from any and all cyber threats.
• Offers security across all devices, since the add-on is available on all major platforms.
• Covers OS security leakages, thus preventing cyber-criminals from taking advantage of exploits.
Ivacy has kept well on its promise to release new and advanced security features along with upgrades for existing ones. Previously releasing updates for its Windows, Android, iOS and Kodi app, Ivacy has ensured that its service as a whole work with any and all platforms. The launch of Nat Firewall is just another step forward in making it possible for its customers to enjoy the secure and unrestricted internet.
Source: Ivacy
Share: