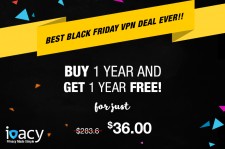 To celebrate the biggest online shopping festival, Ivacy VPN is offering 1 Year Free with 1 Year subscription for just $1.50/mo. According to the company representative, the deal will end on 29th November.
Singapore, Singapore, November 24, 2016 (Newswire.com) - ​It's time to celebrate the holiday season with fervor. Keeping in view the festive mood, Ivacy VPN joins in with an awesome discount deal, giving the VPN users the ultimate luxury to avail its One-Plus-One VPN Black Friday Deal with all the incredible features.
As one of the highest revenue grossing days in digital sales, Black Friday 2016 is expected to break all the previous records. It is estimated that Black Friday digital sales will touch $ 3.36 billion mark in the United States, an increase of 9.4%, easily surpassing the sales figure $ 2.98 billion recorded last year. Almost 40% of the Americans are already planning to join the online shopping spree on Black Friday this year.
With holiday season approaching, the people are already in the festive mood. They will spend generously that's for sure. What online shoppers need to understand is that they should not compromise on their privacy online. With global internet freedom at stake, we strive to provide the netizens with convenient online security solutions, so that they enjoy their holiday season to the fullest, without having to fear about the sanctity of their personal online identity.

Eduard Yegor, Marketing Manager
With One-Plus-One-Year Free VPN Deal, the netizens living around the globe have the opportunity to use Ivacy VPN – the most affordable VPN service in the world – not for one but two years.
In order to avail this awesome Black Friday Deal, the internet users should subscribe for Ivacy VPN annual account for $ 36.00 only. Once on board, the users will get an extra 12-month subscription absolutely free. The monthly price comes down to a mere $ 1.50 only, giving the internet users a wholesome 87% discount for 730 days in total. That's an incredible offer.
That's not all! There is more in the package. The stand-alone custom made apps are the real jewel in crown for Ivacy VPN. The new apps for Windows, Android, Mac and iOS devices come with split-tunneling and internet kill switch features, providing the app users with the liberty to browse the internet on their respective devices with their preferences.
With One-Plus-One-Year Free VPN Deal, the internet users are also entitled to get a whole lot of exciting features, apps, and add-ons.
The five multi-logins feature helps users to protect five different devices, smartphones and personal computer, with a single Ivacy VPN account. No other VPN offers more than two multi-logins.
Kodi users can also get the dose of pure online entertainment with Ivacy VPN Kodi add-on. Now they watch their favorite TV shows, movies, and sports events online, with complete online security.
And Ivacy VPN also has something good for BitTorrent users. With peer-to-peer file sharing mechanism available, the torrent geeks can upload, download and share their torrent files with complete anonymity and security over the internet.
The strong 256-bit encryption framework helps protect users' online information, facilitating data to pass through a secured tunnel, thus avoiding unauthorized access to online data on part of the data snoopers, hackers, surveillance agencies and ISPs.
If there are any issues persisting, netizens can contact Ivacy's customer support team from anywhere anytime via Live Chat, email or social media channels. They are ever ready to address users' online worries with complete dedication and utmost professionalism.
The deal will prevail till Cyber Monday. The clock is ticking away. It's the right time for netizens to avail the best VPN Black Friday Discount of the year.
Source: Ivacy VPN
Share: