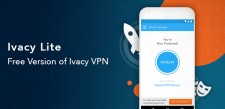 Ivacy releases Ivacy Lite, a free version of its app for everyone.
SINGAPORE, May 10, 2018 (Newswire.com) - After back to back releases of browser extensions, NAT Firewall and dedicated Ivacy app for Mac and Kodi; Ivacy announced the release of Ivacy Lite, which is the free version of its otherwise paid VPN service.
In the wake of increasing cybercrimes and ransomware attacks, Ivacy, which is a premium VPN service provider has launched its free version with the name of Ivacy Lite.
In light of the recent state of affairs, Ivacy is proud to announce its free version of the app, Ivacy Lite. The intention is to allow users who cannot afford to buy the paid version of Ivacy can now equip themselves against any unwarranted attacks, on-the-go!

Bilal Khan, AVP of Ivacy
Lack of privacy is perhaps the biggest issue in modern times. Ivacy took notice of the fact that there are internet users who cannot afford to purchase a VPN service and hence are deprived off basic internet privacy and security.
The app is only for mobile users and is fluid and easy to use. Right now it's available for Android and iOS users.
Ivacy Lite features:
Unlimited Bandwidth
No Speed Throttling
No Registration or Signing Up
Zero Browsing Logs Policy
Ivacy Lite also claims that user can access geo-blocked websites and stream international content libraries seamlessly using its free service, whereas generally free VPN services throttle user bandwidth and cap such streaming options.
Ivacy has explicitly mentioned on their website that the free VPN service - Ivacy Lite, would remain "Free Forever", which is again a too good to be true proposition, but being in the VPN industry for more than a decade, Ivacy has built a reputation as a user-driven and trustable VPN service which never falls short of delivering more than what it promised.
The cybersecurity company believes it is their duty to ensure network security to every user online so that they can stay protected from online compromises and Ivacy Lite is the initiative towards serving netizens unconditionally.
Source: Ivacy
Share: