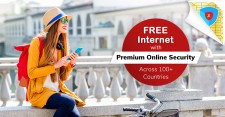 Ivacy, a Cyber Security Company, and Flexiroam, an Internet Roaming Company, join hands to drive away internet mobility and network security concerns for travelers.
SINGAPORE, October 28, 2017 (Newswire.com) - In the era where internet connection is considered as an essential commodity to possess along with the need for a "safer internet" ecosystem, Ivacy and Flexiroam have today announced that they have partnered to offer free internet atop of security, what could be said as a complete package for anyone traveling.
The signing of the contract took place between Nicholas Yeap, VP Sales & Marketing at Flexiroam and Bilal Khan, AVP Operations at Ivacy. Diving deeper into the said partnership, on purchase of the 2-Year Ivacy VPN subscription, the user will get a free Flexiroam X Microchip with 100MB of free internet. This means with the microchip attached to the sim, the user can connect to the internet in over 100 countries whenever and wherever he/she travels followed by complete online freedom and security.
We, at Ivacy, want to provide our customers with utmost convenience, and since many of our customers are frequent travelers hence a partnership of such nature is the best fit for our customers and brand as a whole. At the moment we are giving away free 100MB of the internet for our customers. However, this is only the beginning and we intend to introduce more exciting solutions in the near future.

Junaid Mohsin, Sr. Marketing Manager
This news is particularly good for those who travel frequently and have to deal with roaming charges. With this deal, a traveler won't have to change SIM or subscribe to any local telco, enjoying ultimate ease and convenience. When traveling, you also encounter a number of security risks with one of them being exposed to cyber criminals while connected to public WiFi hotspots. A VPN for travel in this regard encrypts your connection making you safe and secure.
Both Flexiroam and Ivacy VPN view this partnership as a solution vital for its customers as this will answer the concerns for internet roaming while on the go as well as the need to stay safe and protected in the world of internet infiltrated by hackers and snoopers.
In case of press related inquiries, feel free to connect with Mr. Eduard Yegor - PR Manager Ivacy VPN, via email yegor@ivacy.com.
Source: Ivacy VPN
Share: